Towards a shared vision: keeping Aruba Digitally Safe, Secure and Resilient
28 June 2017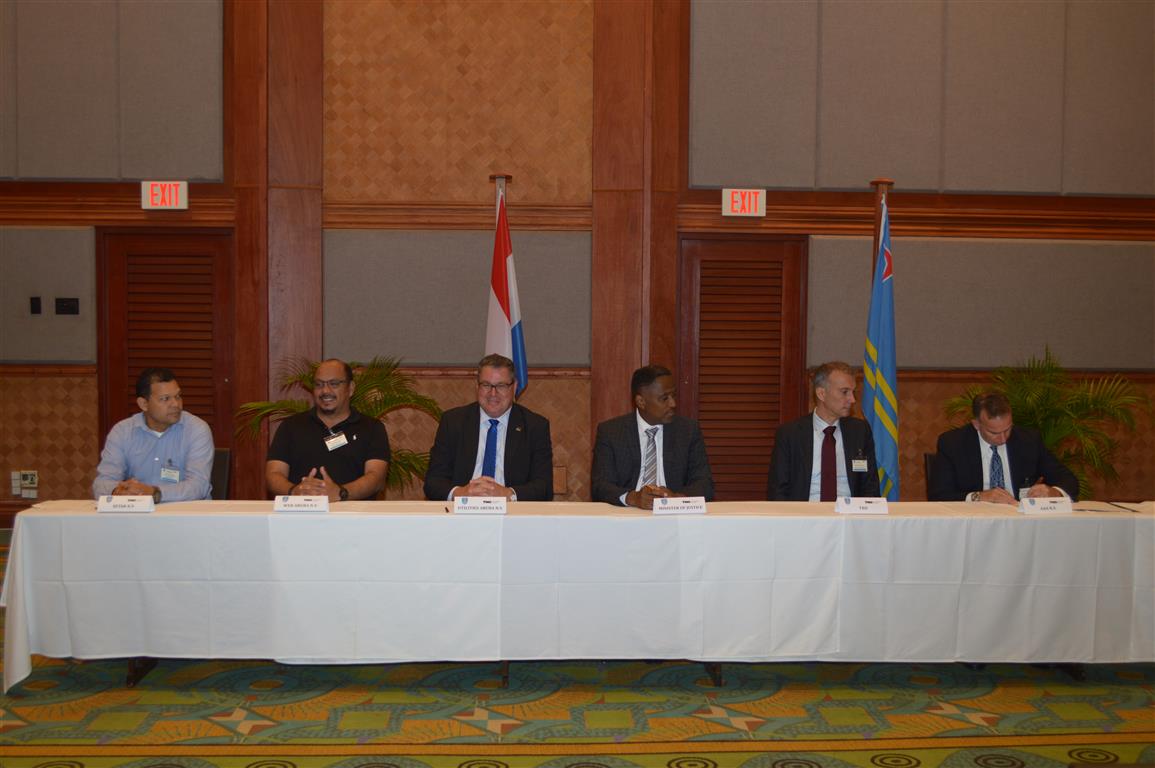 Letter of Intent enables island-wide collaboration for a digitally safe Aruba
Oranjestad, Aruba. On Wednesday June 28, 2017 a Letter of Intent (LOI) was signed by key local stakeholder to explore collaboration for establishing national cyber security governance on Aruba. Among the signing parties are the Government of Aruba, the Utilities Aruba group, SETAR, AAA and TNO Caribbean.
Ensuring that the island of Aruba is digitally safe and secure for businesses, tourists and inhabitants, is the ultimate objective of the foreseen collaboration on Cyber Security Governance. This underscores that both public and private parties on Aruba are strongminded about the shared vision to keep Aruba digitally safe, secure and resilient.
A cyber secure Aruba requires a collaboration among all stakeholders with a sense of shared responsibility. The threats that critical private and public organisations face today are universal, world-wide and have the potential to disrupt daily life. Business and citizens adopt and rely on the well-functioning of Information Communications Technology in an increasing matter. Although Aruba has a well-established connectivity and availability of the internet, the security, integrity and continuity must be maintained for citizens, business and government at all times.
The Aruban government is committed to establish Cyber Security Governance structures on Aruba. In April 2016, the VDA hosted the 'Aruba Critical Infrastructure Seminar' (ACIS) which addressed this issue.
As a follow-up on June 28 2017, a National Cyber Security workshop was held in which 50 participants from over 15 organisations provided input for the Aruban future national cyber security plan. This workshop culminated in the signing of the aforementioned LOI. The partners intend to facilitate the formation of a 'Cyber Security Board Aruba' and a 'Cyber Security Task Force' in the coming months.
Representatives of the various stakeholder organisations at the occasion of the signing of the Cyber Security Governance LOI. Stakeholder organisations include:
Government of Aruba (Minister van Veiligheid en Justitie)
AAA NV
Utilities Aruba N.V. (WEB ARUBA N.V.)
SETAR N.V.
TNO Caribbean
Scroll To Top
Tiplijn Seguridad Nacional
De mogelijkheid bestaat om (anoniem) iets te melden bij de VDA; de informatie kan eventueel gedeeld worden met andere, zoals KPA.
Email: tipline11911@vda.aw